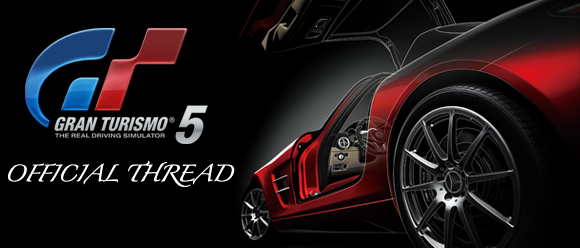 ​
Console:
PLAYSTATION®3
Release Date
: TBA
Number of players
: 1-2 (online: up to 16)
Genre
: Racing
Rating
: "E"
A Revolution In Racing.
Gran Turismo returns with the most realistic and complete racing experience. An unprecedented collection of over 1000 jaw-dropping cars, complete with robust online racing and community features, and just about every style of racing imaginable--all in Gran Turismo's signature cutting-edge graphics.
Key Features:
Build a dream collection from over 1000 of the world's most exciting cars, from exotic imports to muscle cars and performance supercars, to customize, race, and upgrade.
Experience a wealth of racing styles and events, including road, rally, drift and NASCAR.
Expand the Gran Turismo experience with deep and robust online community features, and challenge friends in the new custom race lobby system for the ultimate track day.
The most advanced Gran Turismo yet, featuring unrivaled graphics and a true-to-life driving feel.
Gran Turismo 5 Feature List
CARS THAT LOOK AND FEEL REAL
* A first for the franchise, vehicles will now show real-time damage and wear that reflect the driver's treatment of the car. Cars will collect dirt (and can be washed at car washes) and will feature adaptive and accurate body deformation and performance damage based on point of impact and velocity (on select vehicles).
* Additional graphic touchups that add to the realism include smoke from tires, sparks that fly from vehicle rollovers, and dirt accumulation.
* Brand new vehicle physics engine that replaces the engine from Gran Turismo 5 Prologue, making the action more realistic than ever.
* PlayStation Eye camera features that add a new level of detail to the game, including face tracking for looking around the interior of vehicles while in the interior dash view.
MORE CARS, MORE TRACKS, MORE MODES
* More than 1000 licensed cars, including those representing racing organizations from around the globe such as NASCAR, World Rally Championship, Super GT and more.
* More than 20 tracks with more than 70 variations featuring famous world circuits and real-world city locales.
* Arcade mode lets players take in the stunning tracks and environments of Gran Turismo 5 alone or with a friend in split-screen two-player mode.
* The fan-favorite career mode returns with a full world map, licensed car dealerships, tuning and body shops, and car washes. Start your car collection, customize them to your liking, and live the life of a pro racer.
* Compete in franchise mainstays like point-based Championship Race series and hone your skills with License Tests.
* Gran Turismo TV Video gives players access to an online clearinghouse of great motorsport video programming (both HD and SD - all broadcast quality) through PLAYSTATION Network. Users can now export this content to the GT PSP Museum (GT PSP required).
CUSTOMIZE YOUR RIDE, AND YOUR GAME
* Photo Mode and Photo Album allows users to capture their greatest GT moments, and share with friends. Players can stage and capture stylish shots from a number of angles and locations.
* Photo Album can be shared online, and the Online Replay Album lets players capture replay video from their favorite races and upload them to YouTube for the world to see.
* Players can create custom soundtracks from music stored on their PS3s to play in-game.
RACE AGAINST THE WORLD, ONLINE
* Online racing evolves in Gran Turismo 5 with robust racing options that are shaping up to deliver the deepest online racing experience available.
* Players can join in on public races featuring up to 16 players at once with text and voice chat, or host private races with lobbies supporting up to 32 players per lobby.
OTHER FEATURES
* Players who own Gran Turismo PSP and Gran Turismo 5 Prologue can transfer cars unlocked in that game directly to their garage in Gran Turismo 5 for use in Arcade Mode through special cross-talk interoperability.
* Gran Turismo 5 will feature full PSN Trophy support, making players' accomplishments that much more satisfying.
Excitement Only Possible With 3D
Driving, Gathering, and Interacting
The Constant Risk of Crashing Adds To The Tension: Three Levels of Vehicle Damage
20 Locations, Over 70 Variations: Beautiful Tracks Recreated in True-to-Life Detail
A Massive Collection of Over 1000 Cars:

Exquisitely Detailed, Premium Cars Are Stunningly Recreated Both Inside And Out.
The Editions
The Standard Edition: RRP: £49.99/$59.99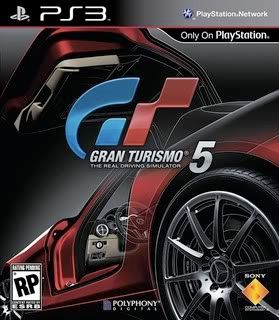 This is the base edition of Gran Turismo and like any other game will contain disc and instructions.
The Collectors Edition: RRP: $99.99
This Collectors edition includes:
# Gran Turismo® 5 game
# Exclusive limited edition 1:43 scale diecast 2009 Nissan GT-R Spec V with custom Gran Turismo livery designed by Polyphony Digital, produced by well-known collectible car maker Kyosho
# In-depth 300-page car-lover's guide written by the experts at Polyphony Digital, covering everything from the history of the modern automobile to driving techniques and game reference material
# Custom etched Gran Turismo key chain
# Voucher for five (5) exclusive high-end cars with custom Gran Turismo livery and performance upgrades
# Numbered certificate of authenticity
# Custom collector's packaging
The Signtaure Edition: RRP: £149.99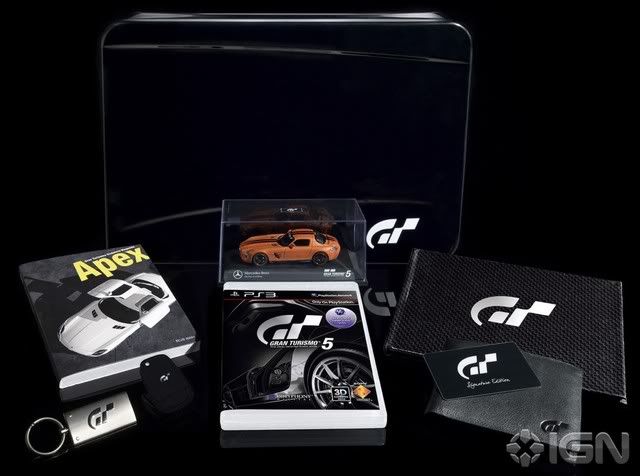 Here's the list of stuff that comes inluded with this:
* Metal sculpted box finished in SLS AMG Obsidian Black
* Exclusive GT branded SLS AMG 1:43 model car
* GT leather wallet containing Signature Edition competition entry card
* Branded USB key with Polyphony/Mercedes-Benz trailer
* GT branded metal key fob
* Signature Edition coffee table book featuring the beautiful cars and locations of Gran Turismo 5
* 200 page Apex drivers magazine with hints on driving technique, car tuning, future technologies and more.
PlayStation3 Slim Console - Gran Tursimo Racing Pack (HDD 160GB Model) - 110V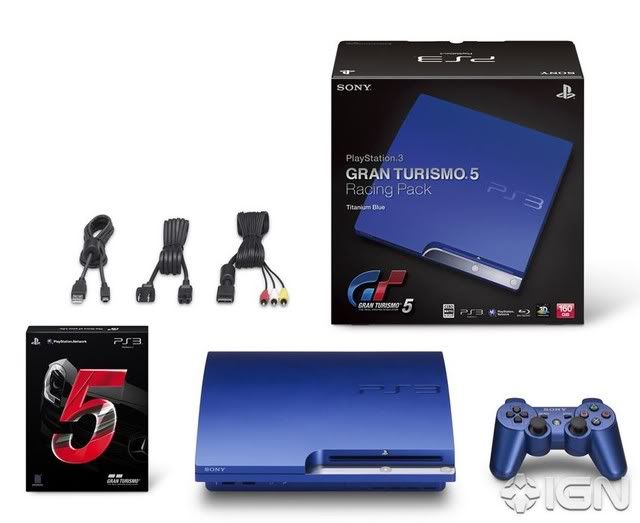 Box contents
Gran Turismo 5 [First Print Limited Edition]
PlayStation3 Slim Console (HDD 160GB Titanium Blue Model)
PS3 Wireless Controller (Dual Shock 3)
AV Cable
USB Cable
AC Power Cord
Manual (Japanese)
Screenshots
Latest From Gamescom
GranTurismo5 Update - CourseMaker, Driver Management and KartRacing
Online players confirmed.
1.
TheGoldenTouch
2.
Radical
3.
Soulhunter
4.
hammad800
5.
athar2222
6.
Muaaz
7.
DeNitro
8.
coolsaad141
9.
frostbite90
10.
Bad Mofo
Last edited by a moderator: