Full Review
Buying and downloading:

So, guys, I bought the game on day one. The game is officially launched at $59 on Steam for the standard version of the game without the season pass. However, I had a voucher for a 20% off from greenmangaming.com for a Steam Key of the same. In the end, it cost me around $48 after applying the discount.
The Steam download of the game takes around 41 GB space on your storage before unpacking to 55 GB. I had no issues downloading the game, and on a 4mb PTCL connection, it took about 16 hours at 480kb/sec download speed on average.
System specs and Graphics:

Having played both Wolfenstein: The New Order (TNO) and The Old Blood (TOB), I really had high hopes for this game. It is needless to say that both of these titles are some of the best story driven FPS's ever. The promos of TNC hyped up on the story emphasis so that was just music to my ears.
However that could only be judged later, so I fired off the game on my aging PC.
Specs:
Haswell i5
16 Gb Ram ddr3 Kingston Hyper X
Radeon R9 270x 2GB
The minimum GPU requirement of this title is at least R9 290/290x and it's really apparent as the first time the game launched it automatically adjusted my video settings to 720p with a high preset. And speaking of Graphical quality, this game is absolutely gorgeous, however, I admire MG (Machine Games) to have really scaled the game well. There are six various graphical quality presets compared to the standard three: Low, Medium, High. Here you will find, three Ultra presets set for the insane amount of visual eye candy that my GPU couldn't even dream of handling. And if you are not happy with the presets you can happily dive into the advanced settings and tinker with the graphical settings to find the sweet spot for your machine.
The downside is that there is no in-game benchmarking tool so you just have to test the settings. While the resolution can be changed without leaving the game, some of the advanced settings require a game restart, which I found irritating.
That being said, I switched to full HD resolution and tried the various presets but found that on High my framerate dipped to 29-30 fps, which, in a couple of initial combats, further dipped to 24-25 fps. So I switched to medium settings and here I breezed through the environment, getting a stable 45fps except for a couple of exceptions where I was attacked by around 25 enemies on a map the fps lowered again to around 29-30 but only for a few moments and it wasn't really a game changer.
So suffice to say, anyone with a modern gaming card with 3-4 GB of VRAM should be able to run this game at high settings and those of you having 8 GB monsters can perhaps run the Uber presets. Nevertheless, the game and the combat is enjoyable at Medium and there's no lack of eye candy here.
The world is incredibly detailed. You can see smoke, reflections, hair, particles, haze, sparks everywhere.
The game is further optimized toward team Red; yes the AMD logo appears when you launch the game so I am assuming that those of you who have Radeon cards should show a marginal gain over team Green.
Story

Three words: It is okay…well mostly okay, even good at some points.
You read me right. This game is a very solid shooter but it doesn't come close to the storytelling genius of TNO and TOB. TNC almost feels like a movie. It has over the top action, a cinematic feel but it's anti-climaxing really.
General Engel is the main antagonist of this film and where I really liked her brief bouts of terror in the previous two games, she overstays her welcome in this one.
Despite the fact that it doesn't live up to its predecessors, it is still a strong story-driven, enjoyable, game on its own when compared to a mass of FPS's in the market. So for people who are going to play this for the first time, you are still in for a treat. And you don't need to play the first two games to understand what's going on as the game opening gives you a recap anyway.
I won't spoil the story, you have to do it on your own. But expect a lot of gore, and I mean a lot…then there is explicit language, trauma, abuse, racism, sexism, politics, parenthood and sexuality. All of these themes run through the very fabric of the game, overlapping at times to create some memorable instances that are equally deplorable and eerily authentic. The game is not shy of looking deeply into the abyss that is human evil and shoves you against choices which are bound to make you uncomfortable if not outright appalled.
You also get to know, barely, an America which is governed by the Ku Klux Klan, however as I said before these are brief moments and not at all what I expected after watching the game trailers. Playing the game, you mostly get to see a ruined America and very few NPC's. However, in the brief moments when you do, it is an absolute delight. The NPC dialogue is spot on and explores the themes of racism and slavery while being subjugated to a foreign power like Germany.
Without spoiling it here further, I found the overall main story to be not really long, at about 10 to 11 hours depending on how you play. With the extra side missions, you can expect another 3-4 hours from the game.
For the perfectionist who wants to find all the collectibles (there are plenty, like star cards, gold, weapon kits and game artwork), expect to pour in more hours as you really have to look around in the nook and crannies of these huge maps to gather all these collectibles. It will take some time.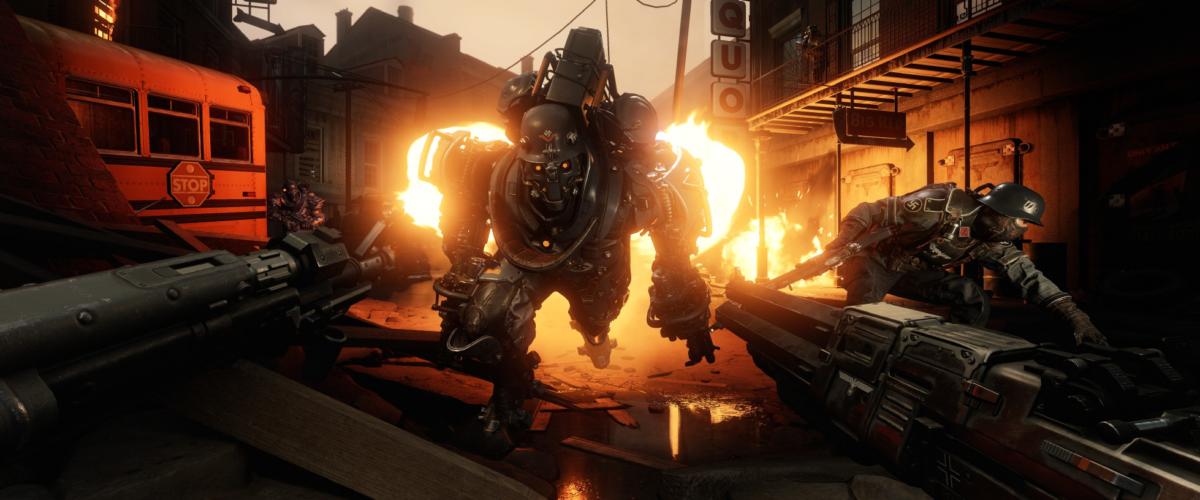 Combat
This is the where the game is technically at its best. And I say this because killing Nazis is fun. It doesn't get you the full DOOM experience if you know what I mean, but it comes close, very close. Compared to the older games, the maps are bigger and enemies are plenty. Our protagonist, BJ, is granted almost superhuman powers from the get-go and you feel like a menace playing him.
But don't let that fool you, YOU WILL STILL DIE A LOT. Yes, despite plenty of ammo and big guns in your arsenal, the game never lets you feel comfortable. The enemies grow in size, power, and numbers as the game progresses.
This time around you also get to tackle the PanzerHund, a giant metal dog that feels like a fire-breathing tank, literally. Then there is a Giant death robot, this Big-boy can be a problem. Giant mechs ramming into you, super-moving soldiers and defense drones flying overhead, there is a myriad of enemies the game throws at you.
On the other hand, you get to take all of your guns with you on every mission and Machine Games have smartly introduced weapon upgrades, available through the game missions as weapons upgrade kits.
Another great new feature is that you can also dual wield weapons of different types. So you can have your Laserkrafter in one hand and the assault rifle in the other and blow the place up.
Besides the normal weapons, you get disposable heavy weapons such as laser beams and Flamethrowers. Carrying around those aren't really handy though as they slow you down considerably and that is not an advantage when you are in a full combat map with enemies crowding on you from every side. The maps also have refueling stations so you can refill ammo for the disposable heavy weapons. If you don't like the full-on-guns-blazing approach, the heavy weapons can work very well.
This brings me to one other aspect of the game that is really a love me/hate me type. The game doesn't give you a map to know your way around when you land a new mission. You only have an objective marker which shows a general direction in which you may head. You have to find collectible maps on the mission to know what the area looks like and even then it only shows vague pathways and stairs and you don't know if the alley you are going to, have obstacles and blocked or is just passable. While I understand that for some having no map is pure joy, the fact is, it can alter your gameplay a lot especially if you like to play a bit stealthy. You can't tag enemies and you can't guess where they would be.
The enemy AI is also not very subtle or exceptionally bright but it is persistent. So once they spot you there is no "lost them" approach. They will know where you are despite you hiding, even newly spawned enemies.
You can view the artifact appearing in the sky. I have just updated a driver from AMD but I am experiencing some ghosting.
On top of that, like in the previous games, there are the Nazi commanders to kill. And most maps have two of them. Since you can't predict pathways and enemies, it is almost impossible to kill the two commanders before the call reinforcements and therefore the moment you are spotted, you get swarmed with enemies. Killing the commanders, however, give you enigma codes, which you can use midway in the game to unlock side missions.
From the mid game onwards, you get to have 3 special contraptions which grant you: stealth, brute force, and extended height. All three will subtly alter your course of action in the game. And you can start with only one and if you do the extra missions then you can earn the other two as well. However, this is introduced so late that by the time you have all 3 the game is almost ended.
The game also features a perk menu featuring bonuses in the game mechanics such as stealth, high loot drop rate, more ammo capacity, shooting and much more. These can't be bought however, you have to earn them. So for instance, doing 10 stealth kills improves your crouch movement speed by 10%, or using heavy weapons to kill will double the magazine size. These bonuses come at a rate of 10% so with each step you can increase it to a maximum of 100%.
Bugs and glitches

I encountered a few but I am playing the day one version of the game and I expected some. None of them are game breaking. You will occasionally find that being so close to a hiding spot you can't see your gun or your character gets a jittering movement like its having an epileptic seizure when crouching on a thin beam. Fortunately, as soon as you move, the problem disappears.
MG, released a day 2 patch which improved the game and fixed some problems with the Nvidia drivers.
Conclusion

It's a great FPS game and a good sequel. Technically, well made. The story is okay compared to the previous games but nevertheless very good on its own. Shooting is fun and clearly the best reason to play TNC.
If you love FPS and good story elements, you will feel right at home.